I know what you're thinking: this isn't a new LEGO set, Kyle. And no, it's not. 21189 The Skeleton Dungeon has been out for almost a year now (August 2022). But this remains, in my opinion, one of the best sets for the money in stores right now. So this isn't going to be one of those reviews where I leave you in suspense until the end to figure out what I think. Much like the mob spawner featured in this set, my praise is going to be popping up throughout the write-up. The set contains 364 pieces, 4 minifigures, and retails for US $34.99 | CAN $44.99 | UK £24.99.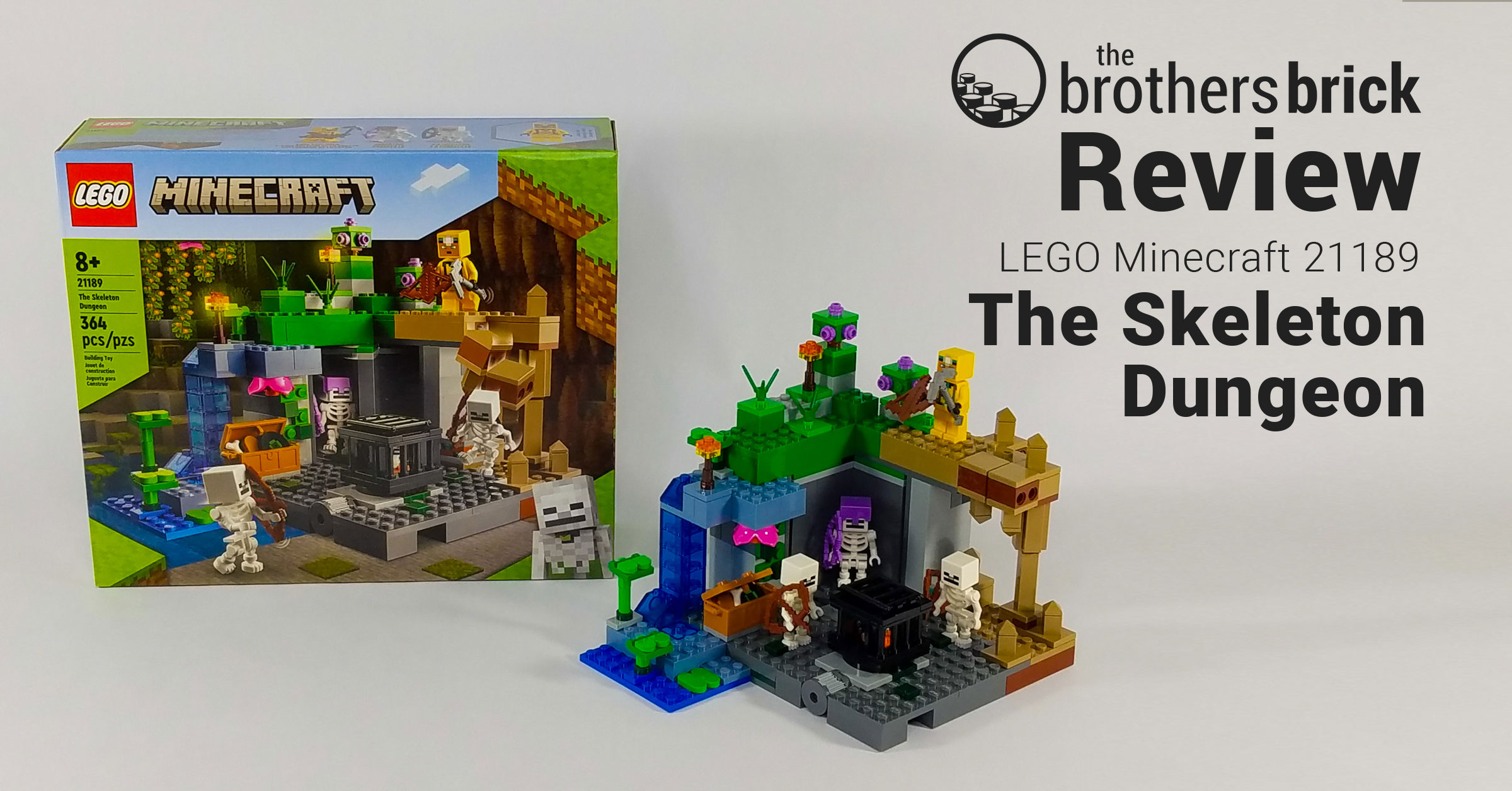 I went out and bought my own copy of the set for a review. Actually, to be honest, I've bought five of them at this point. I can feel you judging me through the computer/phone/tablet, but by the end, you'll see why.
Unboxing, bags, and instructions
Taking a look at the box, it's your standard Minecraft fare: a border with the game's name, some grass blocks, and a mob. You can see that the background actually showcases the two biomes featured in the set. On the right is the lush cave, and on the right we have one filled with dripstone. The back of the box gives us an idea of the play features included in the set. We have the "spawning" animation of the spinning mob inside the spawner, the secret revolving door that "spawns" a new mob in the back corner, and finally, some falling pointed dripstone. Finally, you can see that this box has the thumb punch-outs for opening, which TLG has been trending toward more and more lately. I know this is a hotly contested issue, especially on larger collectible sets, and I just want to say that I'm 100% Team Thumb-Punch. Down with tape!
After gloriously using those thumb punches to open the box, I find three bags full of ABS happiness and a single instruction booklet. But the thing that's missing from this picture is even better. I have yet to open a LEGO Minecraft set that includes a sticker sheet, and I absolutely love it! I know TLG has good efficiency reasons for using them as opposed to printing everything, and in some cases, I'm pleased as punch to get the part without a print so I can use it for my own designs. But those things rarely cross my mind as I swear at the off-center sticker I just misapplied.
The build
After cracking open bag 1 and going full "LEGO Maniac" like in those commercials of the 2000s, I'm left with a solid base. The lush cave and dripstone sections have already begun to form. There are also a few 1×1 tiles in dark green used to add some of the mossy cobblestones typical of Minecraft dungeons. And in the center is that hulking LEGO Minecraft spawner. My one gripe with the theme is the lack of a cubic standard that is the foundation of the video game. And clocking in at 4x the size of a Minecraft "block," the LEGO spawner is just about the worst example we have.
But, frankly, I can forgive giant skeleton spawners if it means we can get 1×1 plates printed like this one! There are certainly worse ways to make a Minecraft spawner in LEGO, and this one does get to feature the spinning motion that makes me want to start spamming torches before I'm overrun.
On to bag 2, which further fleshes out the dripstone-ery and lush-osity. We also see the secret door take shape in the corner, ready to help spawn some skellies. To my knowledge, this is the first time we've seen the lush cave biome in a set, and I do like the choice of sand blue for the clay found in this biome. Given that light gray has been defaulted to stone, this seems like the next-best option. And I think it contrasts quite well with the trans-blue and greens in the biome's LEGO palette.
Finally, bag 3 finishes out the build with some mossy terrain up top, plenty of dripleaves, and more pointed dripstone. The azalea bushes are a cute design here, revolving around a 1×1 brick with studs on all sides. I am a bit disappointed that the moss of the lush cave includes regular green instead of olive or all bright green, as I think either would be a better match to the game. But this likely would've placed significant restrictions on the parts available, so I can give it a pass. Also at this final stage, the falling stalactite play feature has come online, ready to skewer some unsuspecting mobs.
The minifigures
I know that the minifigure offerings of the LEGO Minecraft line are a big reason why adults generally stay away. Who would want an alternate skin from some kids' game when you could get something so much more collectible like the Guardians of the Galaxy or some Star Wars rebels? While I respect the desire for minifig collecting within the hobby, I have zero interest in it myself. And as a sign of that respect, I've included pics of the yellow spelunker Minecraft skin and the three skeletons from the set. But don't expect much more from me on minifigure commentary except to say that getting three skeletons in a single set at this price point is pretty impressive, even if they do have blocky heads.
The parts
And we've finally arrived at my favorite part of any set review: all the awesome pieces! Any apathy I have for minifigures is immediately countered by my love of new, interesting, or hard-to-find parts to include in my own builds. You thought this was a review about a set, but it's actually been all about the parts that come in the set this whole time! Mwahahahahahahaha! The set has a little of everything: plenty of jumpers, some big panels, and parts that complement detailed terrain generation of any kind. And even though there are only three printed parts in the set (including the spare 1×1 plate skelly head), they're extremely versatile! Very little in LEGO Minecraft sets feels truly specific to the theme outside of the figures. And it's hard to say that anymore about others like Ninjago or Monkey Kid.
Bearing in mind the array of parts above, also take a look at how much of this set is bricks and big plates. With the exception of Classic and Creator 3-in-1, no other LEGO theme is loaded up like this anymore. And for those builders just starting out on their journey, this is the perfect set to stock up those reserves of bricks and plates that more seasoned builders (such as myself) take for granted. It's the stuff like this that builds the foundation upon which all the fiddly bits of the first picture rest. And to get a smattering of both options is an experience only replicated in the Creator line anymore. But there's one more factor to weigh in all of this…
Conclusions and Recommendations
Aside from the outstanding part selection in this set, the other big factor is cost. As other licensed themes offer less and less for the same amount (I'm looking at you, Star Wars!), Minecraft, with its "LEGO basics" aesthetic, can be an absolute steal! Yes, there are some instances where custom molds have inflated the price of something MC, but this isn't a review of one of those sets. Part hound that I am, my general rule of thumb is that a set has to be composed of something spectacular if it's coming in at over 10 cents (US) per part. But with the skeleton dungeon, it's a thumbs up on both the contents and the price!
21189 The Skeleton Dungeon comes with 364 pieces, 4 minifigures, and is available now from LEGO stores and their website for US $34.99 | CAN $44.99 | UK £24.99.
Finally, here's the gallery of pics:
The post LEGO Minecraft 21189 The Skeleton Dungeon [Review] appeared first on The Brothers Brick.