The LEGO Group opened the biggest LEGO Store in the world yesterday at Pitt Street Mall in Sydney, Australia. The store is 900 square meters and has two levels. See below for the full press release.
Tip: Be sure to subscribe to the free Toysnbricks email subscription. You'll get LEGO news, new product updates, sales & deals updates, creations and reviews right in your inbox! 
You can also follow us at Facebook, Twitter, Instagram and Flickr. For financial support to Toys N Bricks, you can set up an optional monthly financial subscription on Patreon. Thank you for your support! ( :
Sydney, November 14, 2023: The LEGO Group, in partnership with Alquemie Group, today unveiled the world's largest LEGO® store.

Situated at Sydney Arcade, overlooking Pitt Street Mall in the heart of Sydney, the impressive 900sqm store spans two levels to create a new record for the largest LEGO store globally.

The landmark store includes the first LEGO Minifigure Factory in Australia, plus custom built large format brick features which draw inspiration from local icons and architecture, such as:

Sydney Harbour Bridge: with 549,378 bricks and taking 3,630 hours to build, this model draws inspiration from the 1920s and 30s when the original bridge was constructed. Signature features include iconic animals such as 'Bridget' one of the many white cats who used to live on the bridge during the 50s, 'Jerry Chip Seagull' and 'Alf' the native pink galah – in addition to 'Erika' the rope holder and 'Johnny' the worker reaching for a sneaky cupcake. Sydney Opera House Mosaic: including 303,719 bricks and taking 1,058 hours to build, with a special 'mystery brick' for brick fans to try and locate!

Rainbow Gum Tree: with 183,394 bricks and taking 1,271 hours to build, this incredible model stretches from the lower floor to second floor of the building and features all native Australian animals.

Troy Taylor, Vice President and General Manager, LEGO Australia and New Zealand comments: "It's a great privilege to open the world's largest LEGO Store in Sydney. "With immersive features, creative play experiences and playful nods to culture, Sydney's new store will give LEGO fans of all ages the chance to discover a wide range of LEGO products and exciting digital and physical experiences.

"We hope the new store contributes to the LEGO Group's global mission of inspiring and developing the builders of tomorrow, whilst creating special memories for every fan who visits."

Richard Facioni, Executive Chairman, Alquemie Group, adds: "This world class retail offering creates a new landmark for local families and LEGO fans from around the world. "We invite fans to step into a world beyond their imagination, including brick-built playful nods to Australian culture and inspiring, interactive experiences."

The world's largest LEGO Store also features leading LEGO retail experiences:

● Minifigure Factory: Customers can create and customise their own LEGO Minifigure and then watch it being printed in the store.
● Storytelling Table: LEGO fans can go behind-the-scenes of the LEGO design process with a new storytelling table including interactive areas that allow access 'behind-the scenes' through interviews and videos displayed on screens;
● Pick and Build Wall: an enormous signature brick experience where visitors select the exact LEGO brick elements required to create personalised builds;
● Hands-on play opportunities: including a LEGO play wall and free LEGO build challenges and in-store events every month;
● Brick Specialists: whether visitors are picking out a gift, looking for the latest set or bringing a LEGO fan in for a special treat, Brick Specialists can help find the perfect LEGO set.

The new LEGO Store Sydney is located at Sydney Arcade, overlooking Pitt Street Mall.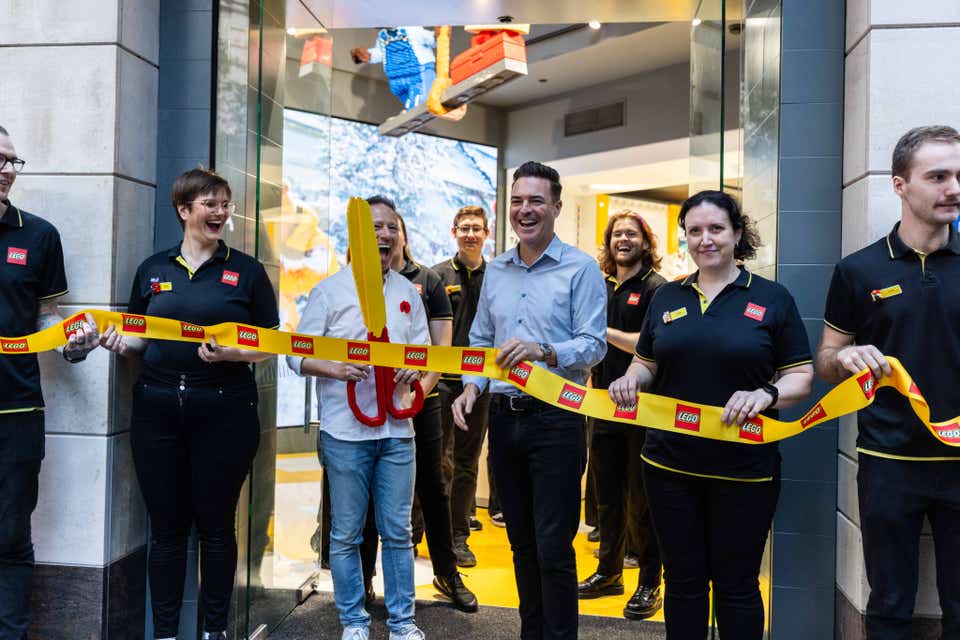 Toys N Bricks is your destination for the latest and hottest LEGO News, Sales News, Creations and Reviews! (www.toysnbricks.com)
© Toys N Bricks: 2009-Present. Biggest LEGO Store in the World Globally Opens at Pitt Street Mall in Sydney, Australia appeared first on Toys N Bricks.