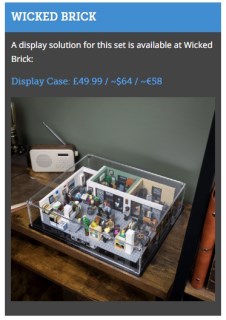 Here at Brickset Towers we're big fans of Wicked Brick's display cases and stands and have reviewed several of them over the years.
So, we've teamed up with them to make it easier to see the display solutions available for particular sets by adding a box on the set details pages showing the set in a case or on a stand, such as the one on the right for 21336 The Office. We've added the company's bestsellers to our database already and will add more in the coming weeks.
To celebrate this new partnership Wicked Brick is offering Brickset readers 10% off all orders until midnight Wednesday 9th August BST (GMT+1) when you use the code WICKEDBRICKSET at checkout.
Have a look the entire selection of display solutions at WickedBrick.com and take advantage of this offer while you can!
© 2023 Brickset.com. Republication prohibited without prior permission.